Welcome to BREAZE
Ballarat Renewable Energy And Zero Emissions - Based in Ballarat, Victoria.
BREAZE is a locally formed group of energetic, forward thinking people who believe that there are more sustainable ways of living on our patch of the planet. If you are concerned about climate change and want to actively reduce greenhouse emissions in and around Ballarat, then JOIN US! Get involved, contribute ideas, show your support. Together, we can make a difference.
Details

Category: Newsflash
Last Updated: 09 June 2015
Hits: 128
After a fantastic effort from Joe Boin, and many other BREAZE volunteers, Smart Living Ballarat is up and running again in the Ballarat Library. Here is the Ballarat Courier article about the launch event.
Congratulations to all involved.
Details

Category: Community Engagement
Last Updated: 01 April 2015
Hits: 435
Last week brought disappointing news for all of us who want to see solar and renewables thrive. The Renewable Energy Target is sinking in political quicksand and despite the efforts of thousands of supporters across Australia, there's no rescue in sight from Canberra.
The latest offer on the Target - which was a proposed enormous cut from 41,000 gigawatt hours to 33,500 gigawatt hours - was quickly rejected by the Government and the dead end debate continues*.
Solar Citizens all around our nation are telling us they are sick of solar and renewables being used as a political football. While the games are played in the corridors of Parliament, jobs are being lost, investment has ground to a halt and a renewable future is left in the shade.
It's time to change the conversation. Take the pledge to Stand Up For Solar to help build a force for a strong solar future that won't be ignored, no matter who is running the country.
Read more: BREAZE stands up for solar
Details

Category: Engaging Government
Last Updated: 18 March 2015
Hits: 400
That's right, there really is another inquiry on wind farms happening right now. Submissions close next Monday and its critical that people who believe in wind power are represented.
Can you take a few minutes to make your feelings clear to the committee?
http://www.windalliance.org.au/another_wind_farm_inquiry
Details

Category: Engaging Government
Last Updated: 07 March 2015
Hits: 363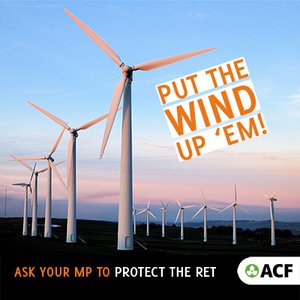 The board, and members of BREAZE want to support the Renewable Energy Target (RET) and have our voices heard as this important legislation passes through the parliament. We can join the Australian Conservation Foundataion and Solar Citizens by championing the RET and having our point of view heard in the Australian media.

To this end, the letter, below, was published in The Courier on 3 March 2015, under Paul Duggan's name - with no mention of BREAZE unfortunately.
We encourage you to get active and write letters to the editor, write or call you local representatives, and use social media to support the RET.
Write to the Ballarat Courier:
Look at this article, "Basics about the RET" to give you some resources for taking action on this important issue.
Read the letter here...The RET is important - take action